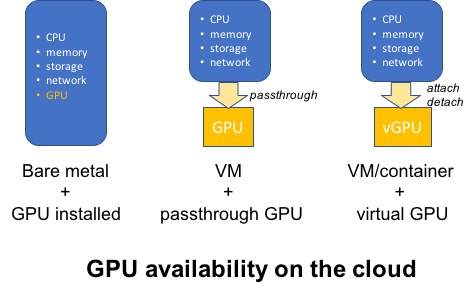 GPU availability on the cloud
https://developer.ibm.com/opentech/2017/04/20/gpu-new-cloud-compute-resource/
To assign a GPU to a guest, use one of the following method:
GPU PCI Device Assignment

- Using this method, it is possible to remove a GPU device from the host and assign it to a single guest.

NVIDIA vGPU Assignment

- This method makes it possible to create multiple

mediated devices

from a physical GPU, and assign these devices as virtual GPUs to multiple guests. This is only supported on selected NVIDIA GPUs, and only one mediated device can be assigned to a single guest.
Kernel 4.10 부터 vGPU 지원
GPU Cloud
1) GPU 부착된 베어메탈서버
2) passthrough GPU + VM
:: 전체 GPU를 VM에 할당하며
생성할수 있는VM 수는 GPU 갯수에 의존적이다.
3) vGPU + VM/Container
:: GPU를 가상화하여 공유할수 있다.